Forget about the high cost of launching
a Gift Card program. Now you can
start selling your own gift cards with
no up front cost.
Make money from day one.
We're so certain you will immediately begin
enjoying the benefits of having gift cards
for your customers, that we'll provide you with
a startup quantity of cards, display materials,
and complete account setup—free. With no
obligation to buy anything else.
When would you like to
sell your first Gift Card?
How about next week?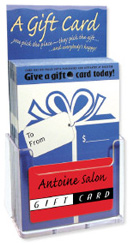 Only $39
per Month
per Location
Just the FAQ's
45% of the population has used prepaid gift cards, compared to 11% last year

Purchasers spent an average of $200 last year, up by $61 from the prior 12 months
Most gift card recipients make more than one trip to the store to use up the value of their card
61% spend more than the value of the card


Within 3 days of receiving your setup form, we will imprint and encode your cards, set up your account to process Gift Card transactions and ship your Jumpstart package to you. Which means that about a week from now, you'll be able to put out your card display, sit back, and watch the program pay for itself every month of the year—not just during the holiday season.
With Jumpstart, the program truly is self funding. At an average value of $35 per card, the profit from your free 100 cards will more than pay for the next 500 cards, which in turn will generate sales of $15,000 or more. All for one low monthly fee that covers transaction processing* and 24/7 access to program activity reports on the web.
If you needed an overwhelming reason to
get going with Gift Cards, this is it. Jumpstart it!
• FREE 100 Cards
• FREE Merchandising Display
• FREE Setup & Training
Order more cards and display materials at any time —
even fully custom cards with your own unique design.
One low monthly fee for:
• Transaction Processing
• Program Reports
• 24/7 Customer Support
Click here to see the various designs, colors,
and typestyles you can choose for your Gift Cards.
Click here for Merchant Setup Form including complete Card Processing Agreement (pdf 448Kb). To get started TODAY, please print, complete, and fax this form to 918-388-1048.